LIQUID GLASS TINTING
---
Used to prevent UV light damage to interiors of offices and homes.
PORCELAIN REFINISHING
---
A complete line of products for Bathroom and Kitchen refinishing including products to repair and recolor bathtubs (porcelain & fiberglass), sinks, countertops, ceramic tile and Formica. 
NO ACID ETCHING!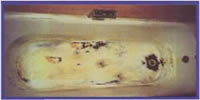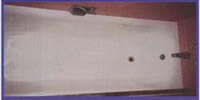 Etchless Primers
Ageless Topcoats
Innovative One-Step (primer and topcoat in one).
Protective Clear Top Coat for Countertops & Floors
VINYL REPAIR/ RESTORATION PRODUCTS
---
SPECIAL-T® is a registered trade mark originally associated with the vinyl and leather restoration products we pioneered in the late 1960's.
Patches
Color Coat
Adhesives
Cleaners
NATURAL GREEN, GREEN STUFF & MORE
---
Natural Green and our "Original Green Stuff" are a grass and vegetation colorant that was developed initially for the motion picture industry to enhance the background grass and other foliage during the shooting of color films. They provide dormant grass and other vegetation with a beautiful rich dark green color. This colorant is so life-like it has been used by the Rose Bowl during the playing of the Rose Bowl game and various Super Bowls, the Los Angeles Coliseum, Milwaukee Stadium, various movie studios including Walt Disney Studios, Universal Studios, and Burbank Studios plus various golf courses to enhance the fairways and greens during the playing of Professional Golf Association tour events. We also have a variety of special colors that have appeared in several motion pictures and television programs. Request our price list and other literature for more details on these colors.
BREAKAWAY GLASS/WAX
---
Oil Soluble Dyes - These are primarily used to produce colors in the manufacturing of candles and break away glass. These powder dyes can be mixed with paraffin wax, bees wax, kerosene mineral oil, or just about any hydrocarbon base/ oil based substance. Waxtones are a liquid version of the oil soluble powder dyes.
PLASTIC/GLASS
---
Sure-Kotes & Water Based Sure-Kotes.
Sure-Kotes are colored lacquers which are used to produce a tough adherent high gloss coating which stays on glass, plastic, metal, wood, leather, paper, ceramic, fabric and dry foliage. These Sure-Kotes produce a heat resistant, non fading, jewel tone, crystal clear color. Used quite often for faux stained glass.
Dip Dyes.
Variety of hot and cold dip dyes for plastics, Lucite, acrylic etc.
CRACKLE/AGING LACQUER
---
This water based product creates the cracking or aging effect needed for some sets, props and faux finishes. It's best features are that it is LOW VOC and it can be recoated without first stripping it.
CRYSTAL/PRISM LACQUER
---
"Crystalac" creates the beautiful effect of ice crystals (frost) formed on glass, Mylar or Plexiglas.
RESINS
---
These dyes will disperse into polyesters, clear enamels, clear polyurethane, clear lacquers, and epoxies and are used to color these resins or mixtures to a desired color effect or shade.
The categories are as follows:
Standard & Transparent Fluorescent (PSTF) Dyes Pastes - These pastes produce an opaque effect.
SCENIC DYES
---
These are powder dyes that can be dissolved in either water or alcohol. They are highly concentrated and have superior tinting and staining properties. Several of them are also used as water tracers for oil wells and for use in tracing water leaks.
WOOD
---
Spirit fast dyes used primarily as a wood stain in the musical instrument field, such as guitars and violins. However, these spirit fast dyes can also be applied to fabric, foil, glass, leather, lacquer, plastic, paper and polished metal.